BE AWARE
Is your state one of the top states for Identity theft? Even if it's not, does it matter....if it happens to you? Identity theft is prevalent and prolific and preemptive action is becoming a necessary precaution.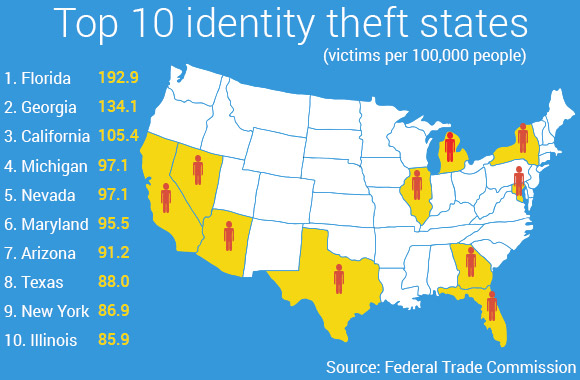 10 TIPS For Preventing ID Theft
1.Only carry what you need - leave extra credit cards, checks and documentation with sensitive information (Social Security Cards, etc.) at home when shopping or leaving your home. When carrying Medicare information it is best to carry a copy and black out the first five numbers of the Social Security number, which most hospitals and doctors will accept.
2.Consider carrying your wallet in your front pocket, in a neck pouch or in a fanny pack on the front of you.
3.Never leave your purse or wallet unattended, even at social or religious gatherings where you feel safe and comfortable - thieves can be lurking anywhere.
4.Keep an itemized list of the cards you do carry on a daily basis along with the check numbers you carry so that if your belongings are stolen you can quickly call and report the stolen cards to the card companies.
5.Before allowing company into your home, always lock up personal information and laptops and log off of and shut down your computers.
6.Be especially cautious of using the ATM. Try to always go into the bank, but if you do use an ATM only use ones that are well lit and take your receipt with you and shred it. Also, be cautious using gas station pumps; they can have skimmers installed that will read your credit card information.
7.Deter crime from your home with lighting, radios and televisions. Use timers or motion detectors on outdoor lighting if you can afford it, or leave lighting on at night or when you are away.
8.Never give out personal information to someone reaching out to you via phone, email, instant message, text message, door-to-door or through social media. If you receive a call from a company requesting personal information, inform them you will hang up and call their primary company phone number to ensure the call is legitimate.
9.Use secure, non-personal passwords that contain both capital and lower case letters, numbers and unique symbols (!*%#).
10.Be cautious with your generosity - make a charitable giving plan and do not deviate from that plan. Check out the legitimacy of every charity before giving them your hard earned money.
Brought to you by the Society of Certified Senior Advisors (SCSA)®
We recommend Securus
PURCHASE HERE AND SAVE 15%