HEALTH INSURANCE 201
Post Obamacare
INTRO
Post Obamacare Health Insurance
Some of the information on this page will pertain to both grandfathered plans and to non-grandfathered plans.
COMPLIANT vs NON-COMPLIANT
As a result of the Affordable Care Act there are now two main types of health insurance available. Many of the new plans are compliant health insurance policies which cover items and procedures required by the ACA.
Older grandfathered plans and certain new plans available are not compliant. New non-compliant plans include short term medical plans and defined benefit plans. Grandfathered plans, short term medical plans, and defined benefit plans will not keep you from being subjected to the tax penalty for not having insurance, nor are they eligible for subsidies.
ESSENTIAL HEALTH BENEFITS
As a result of the Affordable Care Act, all compliant health insurance policies must cover the 10 essential health benefits. This coverage is for everyone of every age and of every gender.
What are the 10 essential health benefits?
1. Outpatient Care, the kind you get without being admitted to a hospital.
2. Trips to the emergency room.
3. Treatment in the hospital for inpatient care.
4. Care before and after your baby is born.
5. Mental health and substance use disorder services, including behavioral health treatment, counseling, and psychotherapy.
6. Your prescription drugs.
7. Services and devices to help you recover if you are injured, or have a disability or chronic condition. This includes physical and occupational therapy, speech-language pathology, psychiatric rehabilitation, and more.
8. Your lab tests.
9. Preventive services including counseling, screenings, and vaccines to keep you healthy and care for managing a chronic disease.
10. Pediatric services, including dental care and vision care for kids.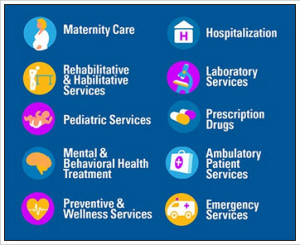 Specific health care benefits will vary by state and can vary by zip code. There may be differences between plans available in your zip code and those plans available in other zip codes within your same state.
Also, the amount you pay for specific services and the actual procedures can vary between the plans available in your area.
I NEED HELP PAYING THE PREMIUM
As a result of the ACA, a subsidy might be available to you if your household income is below 400% of the Federal Poverty Level (FPL). Also, some states have expanded Medicaid to include those who make less than 138% of the FPL.
When Can I Get A Plan?
Since the ACA does not allow insurance companies to decline based on pre-existing conditions the law now only allows you the ability to sign up for a policy at certain times. This keeps people from waiting until they need expensive health care before they sign up.
In most situations (unless you qualify for a special election period) you can only sign up for a new policy during the annual open enrollment period, which runs from November 1st through January 31st. If you qualify for Medicaid you can apply at any time.
What are the special election periods?
1. If you or anyone in your household lost health coverage.
2. If you got married.
3. If you had a baby.
4. If you adopted a child or had a child placed into foster care with you.
5. If you got divorced or legally separated and lost health insurance.
6. If someone in you household died.
7. If you moved to a new residence.
8. If you had a change in income.
9. If you gained citizenship or lawful presence in the U.S.
10. If you were released from incarceration.
With any of the above you have 60 days to apply.
HOW DO I SIGN UP?
If you qualify for a subsidy or if you qualify for Medicaid you'll use the Health Insurance exchange website applicable to your state. If you don't qualify you don't need to use the exchange.
What is the difference in plans on and off of the exchange?
In general, the plans on the exchange are essentially the same as those off of the exchange in most areas. The only real difference is those off of the exchange generally have larger doctor networks and cover more medications than those on the exchange. The premium is essentially the same.
Where can I get help?
You'll want to speak with an agent that works with the major companies in your area, both on and off of the exchange. The agent can help you decide which plan to get and can explain the differences between the plans available. There is no charge using an agent.
You can also click the appropriate button: